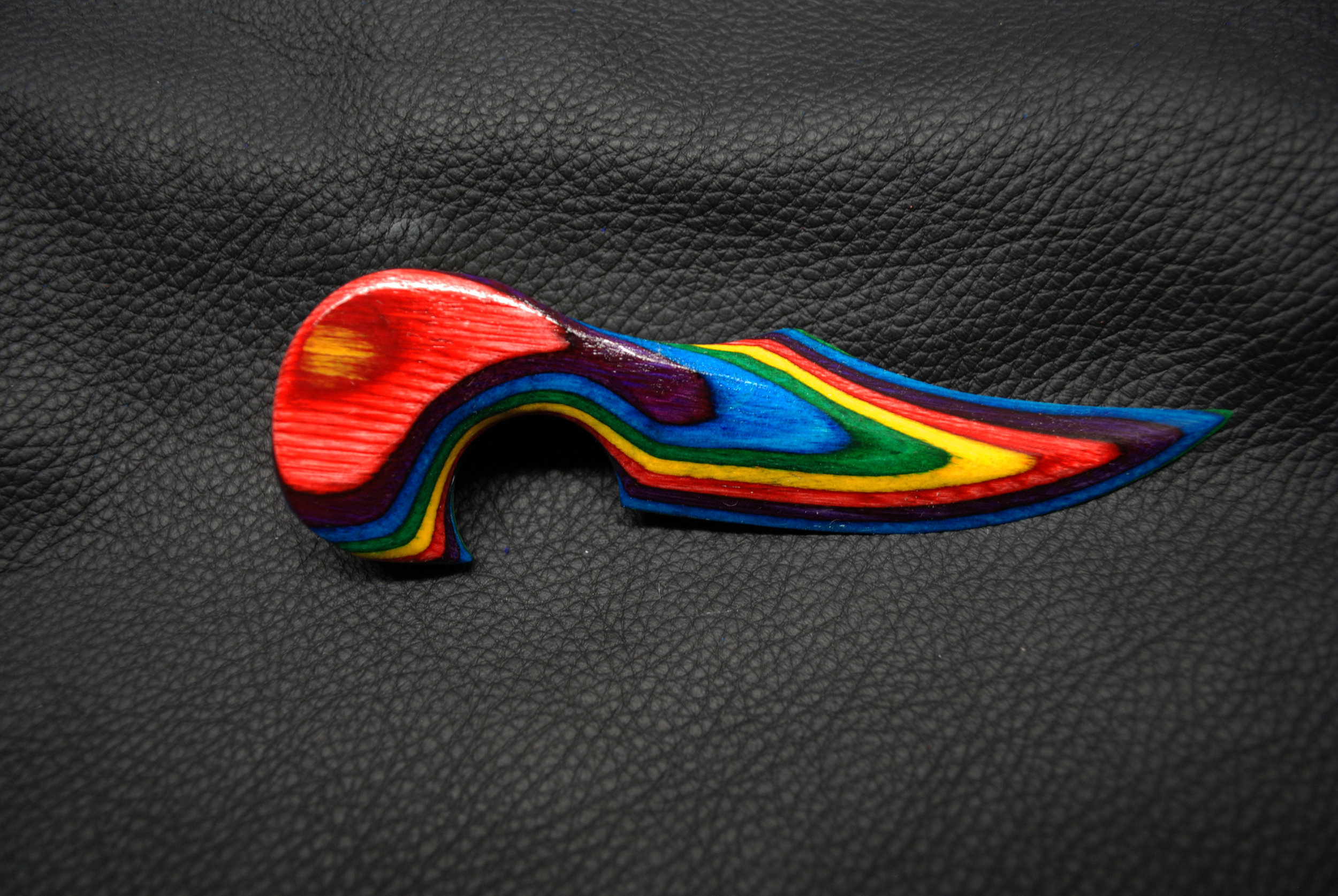 Wooden Knife
These measure approx. 6" total length and approx. 1" wide. Made from a dyed and laminated birch wood these knives are shaped to a very sharp point on the tip and hook. The "blade" portion has also been shaped to a noticeable edge, but not sharp enough to cut.
**NEW**
Resin soaked wooden knives! These knives are the same laminated birch as the other knives, but with one crucial difference. They are impregnated with epoxy resin! This makes these knives immensely stronger and allows a much sharper edge! The resin also makes the knives water proof! 0 finish material has been applied, the knives have been buffed to a high polish. Measuring in at around 6" long and 0.25" wide. Because of the new design with these knives, they are made in left and right hand versions (please notate left or right hand during checkout when ordering these Resin knives). Right hand would be holding it in your right hand and the usable (non beveled) edge would be usable on your left arm.
Completely shaped by hand, every one of our laminated wooden knives are unique in its own way. Due to the beautifully colored layers of wood and each maliciously hand made, no two knives are exactly the same. Made from high quality birch, these knives are sanded to a perfect edge and sprayed with at least 3 layers of hard clear coat to protect its delicate edge.
Please keep in mind this is a wooden knife. The edge can be damaged and certain precautions must be taken during use and storage of the knife to protect the thin edges. Please feel free to contact us regarding any questions about maintinance to protect your new toy.
Once we make a new color this listing will update with new pictures.